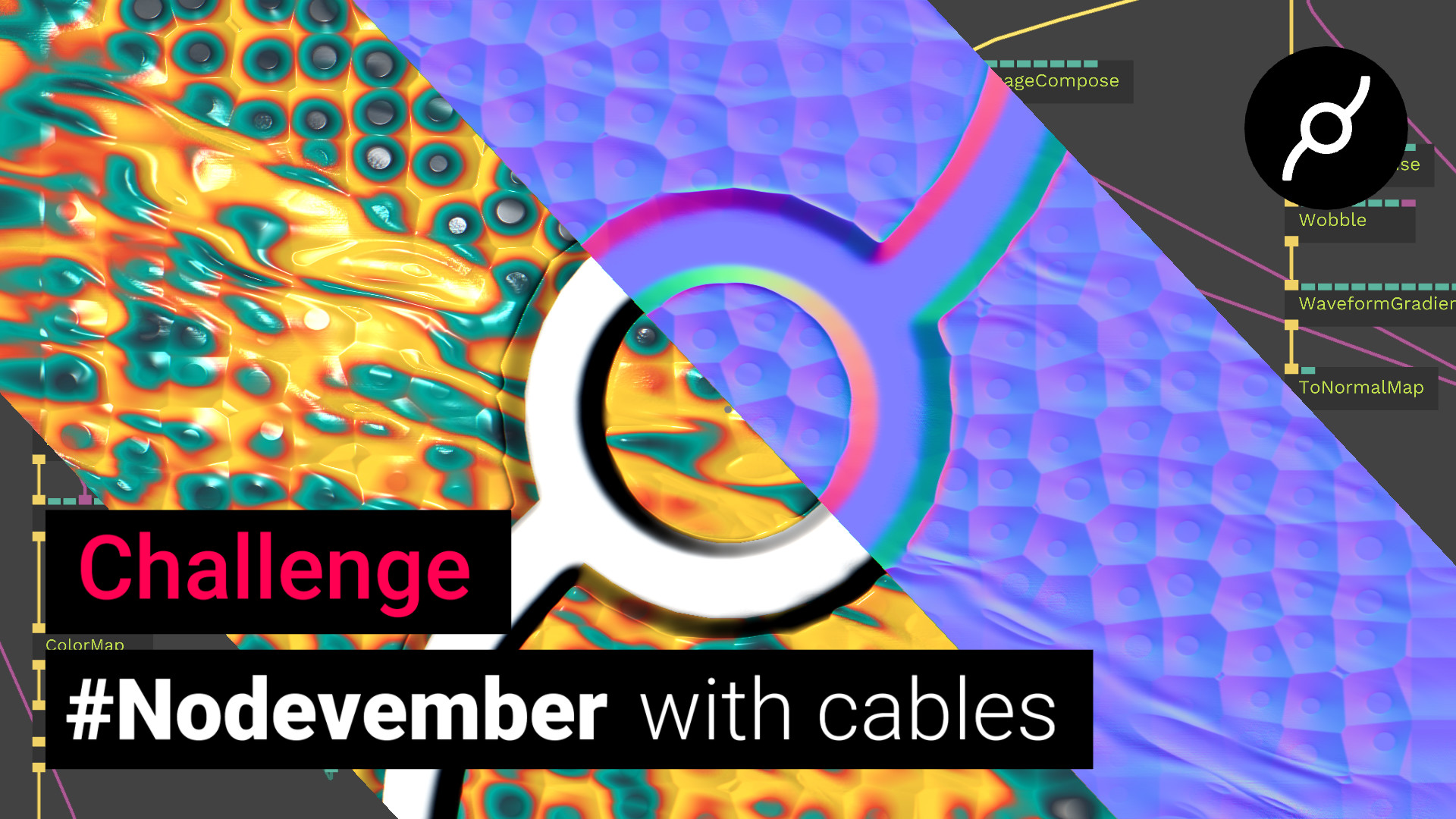 During the month of November, the digital arts community breaks out their nodes and shader graphs to craft a variety of goodness in their software of choice in the online event called 
#nodevember
. It is a month of creative challenges and inspiration driven by topics shared by the 
organizers
. 
Since cables.gl beta has launched we are continuously blown away by the creative tools and amazing artwork that you create. This Nodevember we invite you to flex your prowess with cables.gl and participate online by following the
prompts
 shared by the Nodevember organizers. 
You set your own challenges - create interactive WebGL patches, try creating 3D meshes from arrays, create wild Image Compose shaders to drive WebAudio or maybe only use a Basic Material. Anything goes, but in the spirit of Nodevember, the main challenge is to create demonstrations without relying on imported 3D models, sampled music, photographs, HDRIs - you get the point. You can take a look at the suggested constraints in the "Additional Info" section on the Nodevember site
here
.
We are excited for you to take the challenge in the next month and are eager to see what you create. Follow the prompts as they are revealed and see what ideas come to mind for your cables.gl patches. We will dedicate our
Weekly Wednesday Meetups
in November to help guide your creations and answer questions related to sharing your works at the event.
Once you are ready to post your artwork online - please capture a video of your cables.gl patch and post it online under the hashtags #cablesgl #nodevember #nodevember2021. 
The goal of the event is to spread the word and inspire others.
...and win cables.gl shirts and stickers! 

Here are the Official channels and hashtags to keep an eye on:
hashtags: #cablesgl #nodevember #nodevember2021
New to cables? No worries, check out our 
Youtube channel
 Tutorials and
Instagram
 videos with links to users' patches to get started! 
And see you on Wednesdays on our 
Discord
!